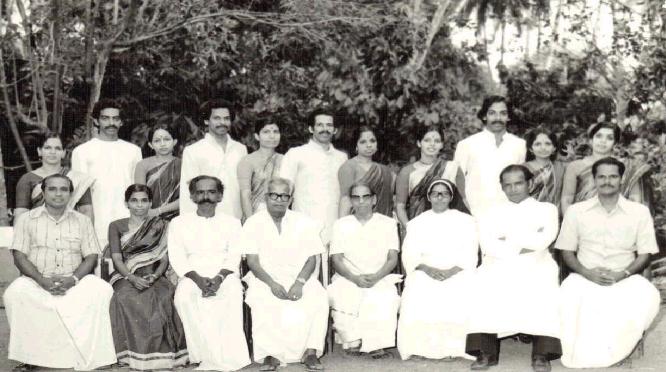 The Chamakalayil family was a part of the Tharayil family in Kaipuzha. Thommi was the head of the Chamakalayil family. He was born in 1848, in Kaipuzha. He married Kunjumariam from Kattapuram family, Manjoor. He lived in his inherited property near to the Tharayil house in Kaipuzha. His father cultivated a crop named "CHAMA" in Thommie's property. Those farming areas were called a "KAALA". So Thommi named his property "CHAMAKALA". They had three children: Chachi, Mariyamma, and Kochokkan. Chachi married to Thommi from Ottakattil family. Her younger sister Mariyamma (Sr. Georgia) joined the Visitation Congregation. She built a convent for the nun's of Visitation congregation in Kaipuzha. She died on September 28th, 1980.
The youngest child Kochokkan was born on 1883; he married Kochumariyam from Chemmarapallyil family, Velliyanad. They had two children. Mariyamma and Thommikunj. Mariyamma was born in 1905; she got married to Simon from Naduvileparambil family, Kumarkom. She died on 1922. Thommikunj (Fr. Thomas Chamakalayil) was born in 1909; he joined the Sacred Heart Seminary, and became a Priest. He was the Superior for the same seminary for several years. He built a hostel for the seminary in S.H. Mount, Kottayam. In 1912, their mother Kochumariyam died, because of a heart attack. Same year Kochokkan, her husband married Kocheeriyam from Manthuruthil family, Kaipuzha. Kocheeriyam was a very smart and brave woman. Her hard work contributed to the prosperity of our family. They had three children: Annachi, Chummarukutty, and Mariyamma.
Annachi was born in 1913. She was married to Esthappan from Poothathil family in Kaipuzha. Her younger sister Mariyamma (Sr. Marceline) was borned in 1918. She joined the St. Joseph's Congregation and became a Nun. And Chummarukutty was born on August 11th, 1916. He got married to Mariyamma from Pathyil-Kalluvelil family in Kaipuzha on June 28th, 1935. Chummarukutty was died on march 16, 1985 and Mariyamma was died on july 21, 1992. They have 10 children.
C.C Lukose Chamakalayil
Georgia (Sr. Innocent)
Isaac (Bro. Patrick)
Molly Xavier Manappallyil
Sally Mathew Koithara
C.C Thomas Chamakalayil
C.C Theophine Chamakalayil
Joseph Chamakalayil
Sicy Joy Muprappallil
Babychen Chamakalayil
1) C.C Lukose is the eldest of the Chamakalayil family in his generation. He was born on December 8th, 1936, and he lives in his inherited place, near the "THARAVADE", which means the main family house. He married Baby from Kochanayil family, in Kottayam in 1960. They have seven children: Ludsy (died on 1962), Betsy, Simon, Ancy, Shincy, Ludsy, and Vinod.
2) Georgia (Sr. Innocent) was born on December 6th, 1939. She joined the visitation congregation, and became a nun. She was the Principal of St. George high school in Kaipuzha for 5 years. After she retired from the teaching field, she became the Mother General of the visitation congregation for 6 years.
3) Isaac (Bro. Patrick S.J.C) was born on September 29, 1941. He joined the St. Gabriel Monastery and became a Monfort Brother of the St. Gabriel. He is the founder director of MCDS (Monfort Community Development Society). MCDS today is among the leading Non Governmental Organizations (NGOs) in India, reaching out to thousands of families in the urban slums of Chennai and rural centers in the neighboring Districts through Community Based Rehabilitation (CBR) and Integrated Community Development Programs.
4) Molly was born on July 16th, 1943. She married Mr. M.M. Xavier from the Manappallyil family in Kannangara Alapuzha. They have 3 children: Lincey, Mathew, and Simon.
5) Sally was born on May 18, 1945. She married Mr. K.M. Mathew from the Koithara family in Kidangoor. They have 2 children: Prakash and Simon.
6) C.C Thomas was born on June 13, 1947. He married Daisy from the Mannathumakil from Kadaplamattam. They have 2 children: Deepa and Tinu.
7) C.C. Theophine was born on Feb 20, 1949. He married Leela from Makolil family in Puthuvely. They have 3 children: Mitzi, Simon, and Tommy.
8) Joseph Chamakalayil was born on April 19, 1952. He married Marykutty from Korattiyil family in Peroor. They have 3 children: Merin, Sherin and Simon.
9) Sicy was born on December 19, 1953. She married Joy from Muprappallil family in Areekara. They have 3 children: Priya, Jose, and Mariya. Sicy died on July 25th, 1987 due to a Cerebral Hemorrhage..
10) Babychen was born on September 9, 1956. He married Pauline from the Makkil-Kallidukkil family in Manjoor. They have 2 children: Simon and Mathew